The Difference Between Dutch Processed or Natural Cocoa Powder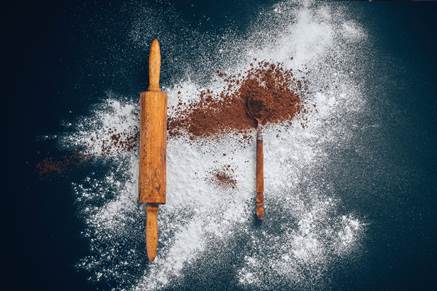 Natural cocoa powder is what you get if you mill the presscake and then leave it alone. It's naturally acidic, which gives the chocolate a sharp, almost citrussy taste. It's the type most often found on store shelves in the United States and can be used in any recipe that calls for cocoa powder.
Dutch Processed cocoa powder is occasionally known as "alkalized" cocoa powder because it is washed in a potassium carbonate solution to neutralize the chocolate's natural acidity. The process often gives the powder a darker coloring than natural cocoa powder and a smoother, less acidic taste. Dutch processed cocoa powder lacks the acidity found in its natural version, so it doesn't react with alkaline leaveners like baking soda to produce the carbon dioxide that some cakes rely on to rise. If your recipe calls for baking soda, you'll want to reach for natural cocoa powder, otherwise, the two are pretty much interchangeable.
Whichever you decide you want to keep on hand for future baking needs, you'll want to store your cocoa powder somewhere cool in a tightly sealed container designed to keep out moisture. After about a year, cocoa powder loses its potency, so don't hesitate to use it all up!