V Chocolate Artisan Tower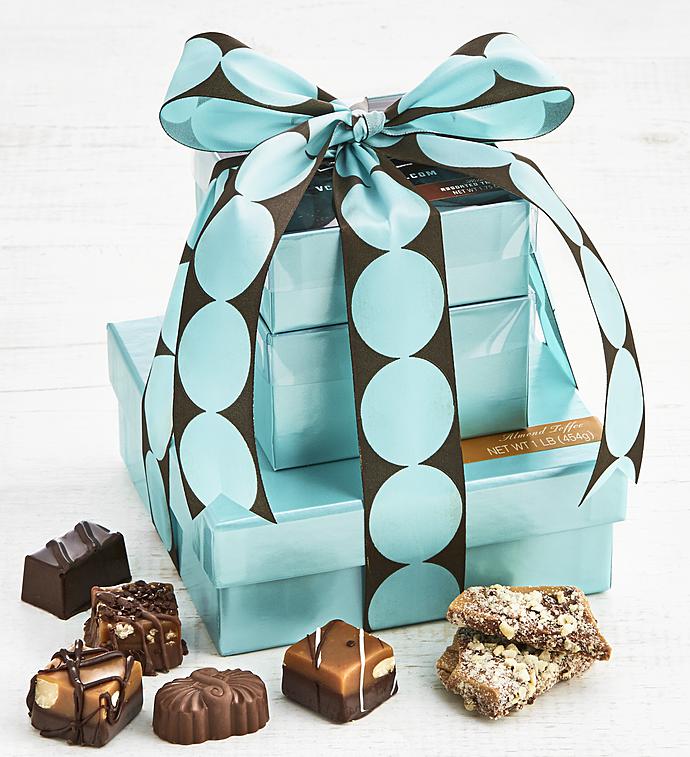 V Chocolate Artisan Tower
Set of 3 Gift Boxes, tied with signature ribbon
1 LB Buttery Almond Toffee
4.8 oz. Layered Caramels
1.75 oz Chocolate Truffles
Gift measures 5.5" x 5.5" x 6"
This gorgeous tower will bring joy into their day! The sweet blue boxes are filled with Belgian chocolate favorites from renowned chocolatier V Chocolates. Their almond toffee is outstanding and the Belgian chocolate truffles and layered caramels are sure to please even the most discriminating! Kosher OU D.
The artisans at V Chocolates have been creating the finest toffee and chocolates since 2007. Unwavering quality of ingredients and old world confectionary traditions are their secrets to success. Their awarding winning confections are made with premium Belgian chocolate and have been twice featured on Oprah's Favorite Things List. V Chocolates strives to create a total sensory experience with every delicious bite.
Set of 3 Gift Boxes, tied with signature ribbon
1 LB Buttery Almond Toffee
4.8 oz. Layered Caramels
1.75 oz Chocolate Truffles
Gift measures 5.5" x 5.5" x 6"