Simply Chocolate Happy Birthday Personalized Box
Simply Chocolate Happy Birthday Personalized Box
We're sorry, this product is not available. Please shop our top trending products that customers like you have chosen to connect, express and celebrate.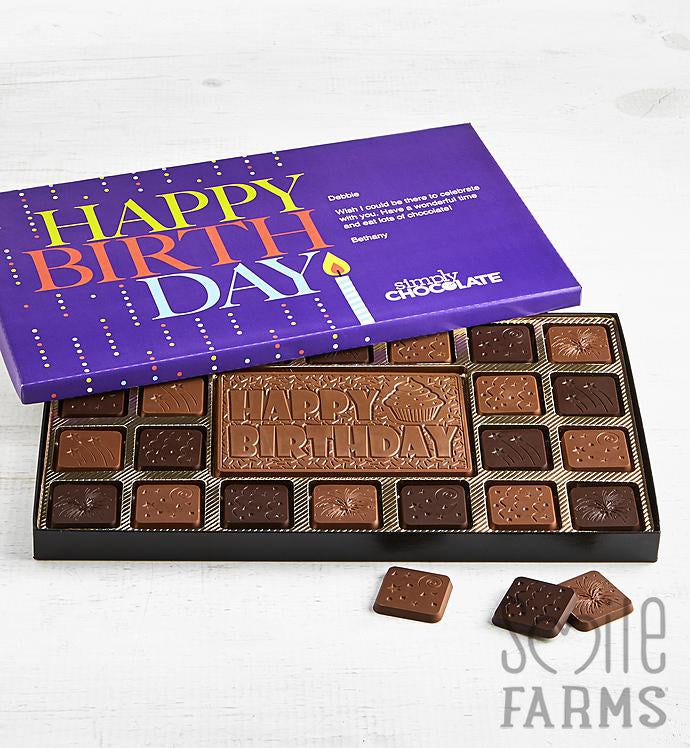 Product Details
:
1025-P-179652
Add your message on a maximum of 5 lines to be printed directly on the gift box


There is a 30 character maximum for each line including spaces.


Box measures 14" x 8 1/4" x 1"


This item is part of our special BIRTHYAY! gift collection. For each item purchased from this collection, we will donate 20% of the net proceeds* to support our signature philanthropic partner, Smile Farms ®. The mission of Smile Farms is to provide developmentally disabled adults with meaningful employment opportunities. When Smile Farmers work on farms, urban gardens, greenhouses, and farm stands, they are able to grow and sell flowers, plants, and produce in their local communities. Smile Farmers are truly enriched by their work, and the daily routine it provides makes all the difference in their quality of life.
*"Net Proceeds"
shall be defined as the gross sales price of the product less any and all taxes, service charges, shipping and handling charges, discounts, gift certificates, promotional gift certificates, promotional offers (e.g. airline miles, points, e-money, etc.) credits, rebates, chargebacks, refunds, credit card processing fees and gift certificate cancellations.
© 2021 Smile Farms Inc. is a 501(c)(3) nonprofit, EIN: 46-5360466.