Simply Chocolate

®

Grande Splendid Sweets Basket
Simply Chocolate® Grande Splendid Sweets Basket
We're sorry, this product is not available. Please shop our top trending products that customers like you have chosen to connect, express and celebrate.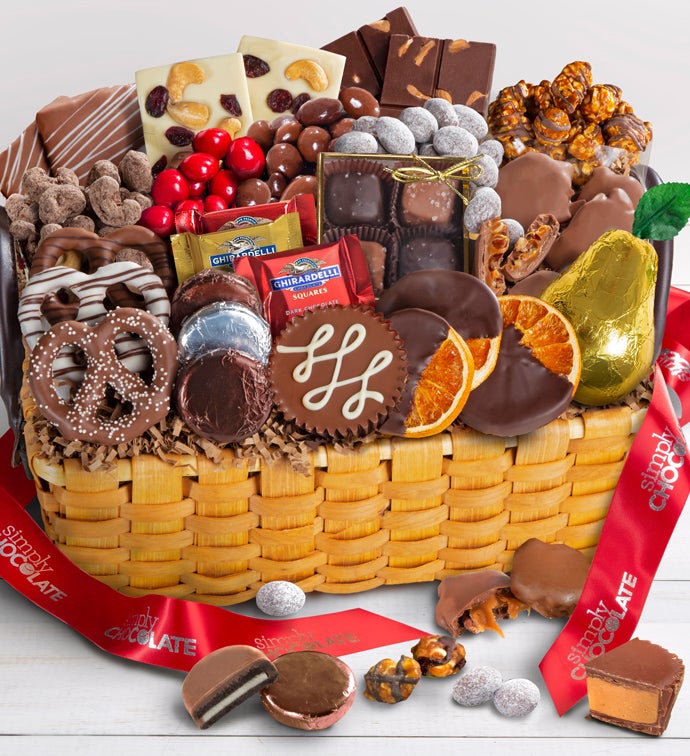 Product Details
:
1025-P-179786
3 Foil Oreos
3 Chocolate Covered Pretzels
3oz Dark Chocolate Almond Bark
3oz Cranberry Cashew Bark
2 Milk Chocolate Graham Crackers
1 Jumbo Peanut Butter Cup
4 Pecan Clusters
3oz Dark Chocolate Dipped Dried Oranges
4pc Sea Salt Caramels
3oz Turbinado Sugar & Sea Salt Cashews
3oz Toffee Dusted Chocolate Almonds
5oz Dark Chocolate Sea Salt Caramel Popcorn
Chocolate Gold Foil Pear
3oz Chocolate Cherries
3oz Chocolate Bridge Mix
3 Assorted Ghirardelli Squares
Dimensions: 14" x 13" x 5"