Simply Chocolate

®

Breakable Chocolate Candy Cupcake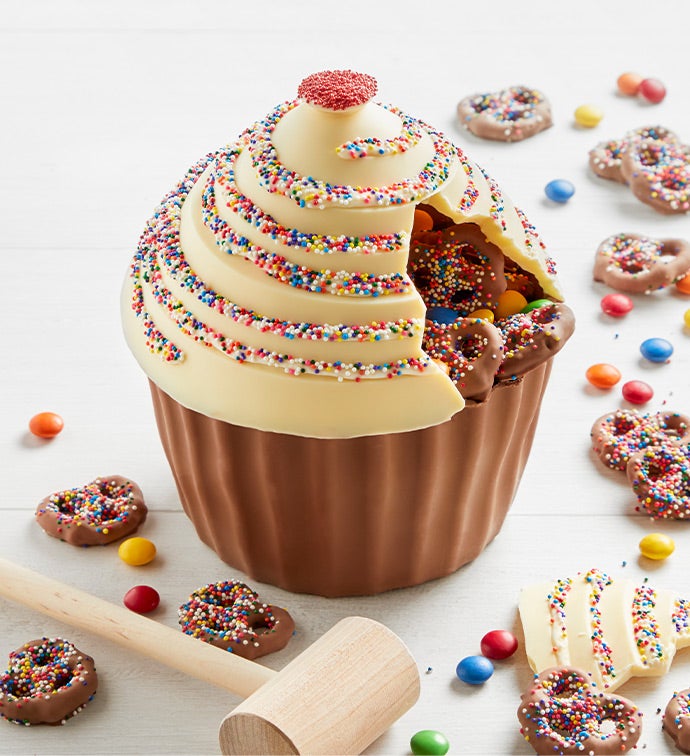 Simply Chocolate® Breakable Chocolate Covered Cupcake
Belgian Chocolate Giant Cupcake
filled with Belgian Milk Chocolate Mini Pretzel Twists with Rainbow Nonpareils, and Assorted Colors of Milk Chocolate Gems
Net Weight: 34 oz
Dimensions: 8" x 7" x 5"
It's looking a lot like a party with our dreamy Simply Chocolate breakable cupcake. This sensational bakery treat is a delicious vanilla frosted Belgian chocolate cupcake jumbo giant that incredibly serves seventeen people. It's filled with Belgian milk chocolate mini salted snacks with rainbow nonpareils and colorful milk chocolates for gourmet cupcake sophistication. Send a super-duper smashing cupcake experience to celebrate birthdays, graduations, a new job or to anyone you know who loves cupcakes.
Belgian Chocolate Giant Cupcake
filled with Belgian Milk Chocolate Mini Pretzel Twists with Rainbow Nonpareils, and Assorted Colors of Milk Chocolate Gems
Net Weight: 34 oz
Dimensions: 8" x 7" x 5"