Molten Chocolate Lava Cakes
When you push your spoon into a molten chocolate lava cake and the center erupts out, it's impossible not to feel like a kid again. The moment lasts until you put the spoon in your mouth and your senses overload, pushing everything out of your mind except for intense joy. Molten chocolate lava cakes, are, in short, the ultimate chocolate desert and the ideal way to truly impress your favorite Valentine. They're easy to prep and can be prepared ahead of time and popped into the oven while you eat the main course.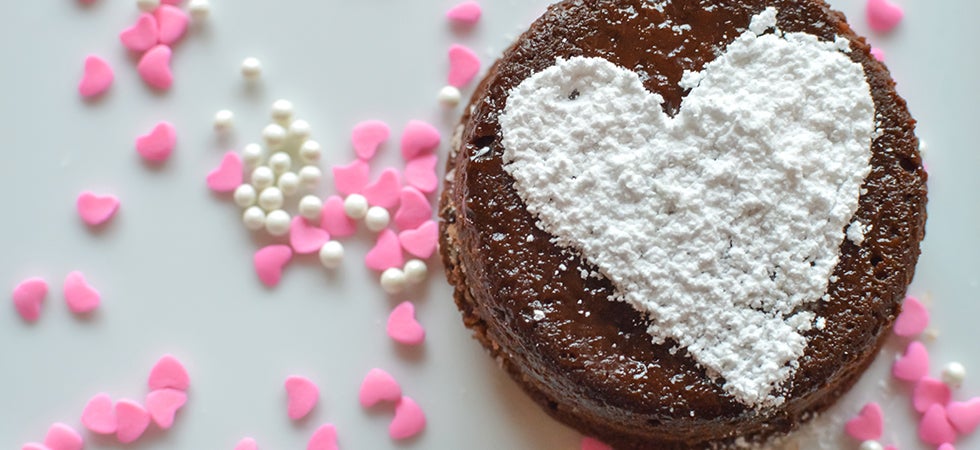 1

In a double boiler, melt the chocolate and butter. Whisk until the mixture is smooth and shiny.

2

Using a stand mixer or a hand mixer, whisk together the eggs, egg yolks and sugar until light yellow and frothy.

3

Drip a little of the hot chocolate mixture into the whipped eggs and blend to bring the egg temperature up and keep from cooking them when you add the rest of the chocolate. Fold in the rest of the chocolate a little bit at a time until fully combined.

4

Fold in the flour.

5

Add the espresso powder and the vanilla extract.

6

Scoop the batter into heavily buttered ramekins and place in the refrigerator for at least 30 minutes.

7

Preheat oven to 450F.

8

Place ramekins on a cookie sheet and bake for 12-14 minutes. You want your cakes to be barely cooked on the top. Everyone's oven is a little different, so it might take a little trial and error to get the timing just right.

9

Remove ramekins from the oven and, using a knife, loosen the edges. Place a plate over the ramekin and gently unmold your cakes.

10

Sprinkle with a little powdered sugar and serve immediately.
Ingredients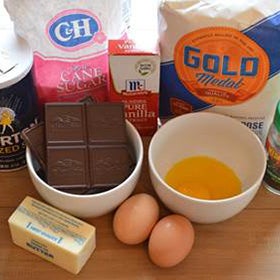 >

1/2 Cup butter (1 stick)

>

6 oz semi-sweet chocolate

>

<

2 Eggs

>

2 Egg yolks

>

1/4 Cup Sugar

>

Pinch of Salt

>

2.5 Tbsp Flour

>

1 Tsp Vanilla Extract

>

1/8 Tsp Tsp Expresso Powder (optional)