Chocolate Meringue Cookie Hearts
Chocolate Meringue Cookie Hearts
They say the way to someone's heart is through their stomach, right? So, roll up your sleeves and get ready to make the ultimate show-stopper Valentine's Day treat. Chocolate meringue cookies might seem incredibly complex and sophisticated, but they're surprisingly easy to make and are always a crowd-pleaser. The prep time for this chocolate meringue recipe is relatively short, but, be warned, the cook time is deceptively long.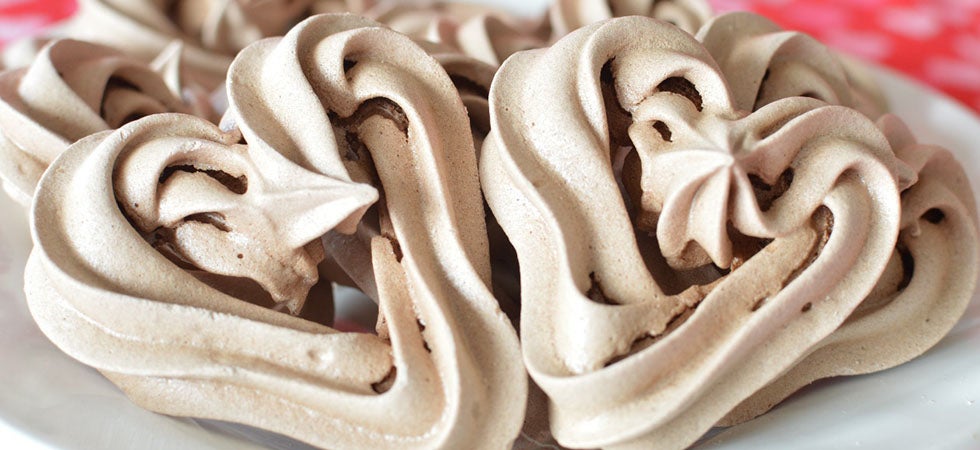 1

Using eggs fresh from the refrigerator, separate 5 eggs, making sure that absolutely no egg yolk gets into the egg whites. The easiest way to do this is to separate each egg into a small bowl and add the egg white to the larger bowl when you are sure none of the yolk has been left behind. Discard the egg yolks (or use two to make Chocolate Pinwheel Cookies and discard the rest). Set the egg whites aside until they reach room temperature.

2

Sift together the powdered sugar and unsweetened cocoa powder and set aside.

3

Preheat your oven to 250°F

4

Using a hand mixer or a stand mixer, beat the room temperature egg whites until soft peaks form. Add the cream of tartar and whisk until incorporated.

5

Add the granulated sugar one tablespoon at a time, whisking until each spoonful is incorporated before adding the next.

6

When your egg whites are firm, and all the sugar has been incorporated, set your whisk to the lowest setting and fold in the powdered sugar and cocoa mixture until just barely combined.

7

Spoon your chocolate meringue batter into a pastry bag with a star tip and form heart shapes on a parchment paper lined cookie sheet. Your meringues will swell a tiny bit while cooking, so leave a little space between each. You can also form some more traditional meringue shapes on the same cookie sheet.

8

Bake at 250°F for an hour, then, without opening the oven door, turn off the oven and leave the chocolate meringues in the oven for another two hours.

9

Remove from oven and store in an airtight container.
Ingredients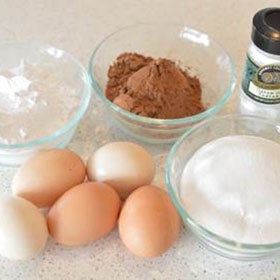 >

3/4 Cups Powdered Sugar

>

6 Tbsp Unsweetened Cocoa Powder

>

5 Room Temperature Egg Whites

>

1/2 Tsp 3/4 Cup Granulated Sugar

>

1/4 Tsp Cream of Tartar (optional)
Chocolate Meringue Cookie Hearts