Homemade Chocolate Marshmallows
Homemade Chocolate Marshmallows
Marshmallows are one of those things that we pick up at the store without ever wondering whether we could make them at home. They're marshmallows after all. When you want to make s'mores or hot chocolate, you grab a bag and throw it in the cart. But, like pretty much everything else, homemade marshmallows are so much better than the store-bought kind, and, if you have a thermometer that can withstand high temperatures, then they're also ridiculously easy. Follow the steps below and get ready to enjoy homemade chocolate marshmallow nirvana. Added good news, they're gluten free!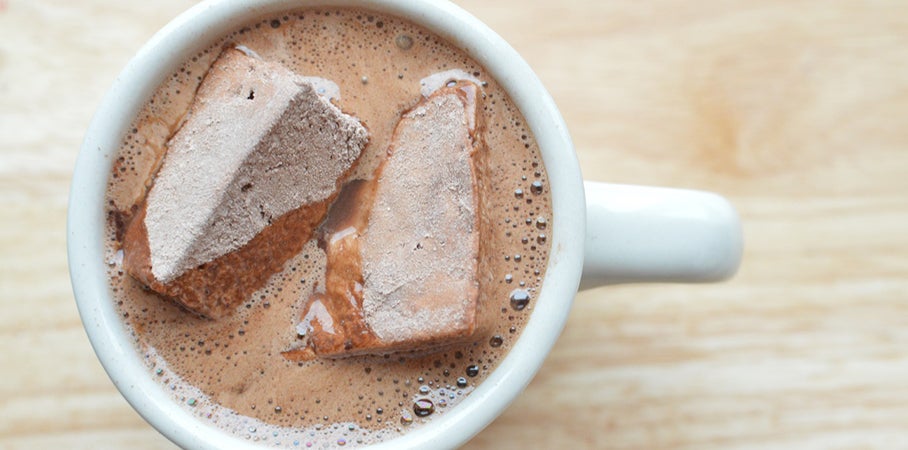 1

Mix ice water and gelatin in a stand mixer until just combined. Let sit.

2

In a small saucepan, whisk together sugar, corn syrup, salt, and water. Heat over medium heat until mixture comes to a boil. Raise heat to high and heat until instant read candy thermometer reads exactly 240°F. Immediately remover from heat.

3

Start stand mixer on low and gently mix gelatin. With the mixer still on, slowly pour in the hot sugar mixture, being careful not to let it touch the sides to keep it from solidifying. Whisk on high for 8-10 minutes until frothy and smooth and marshmallow-like

4

While the stand mixer is whisking the marshmallow, melt the semi-sweet chocolate in the microwave or in a double boiler. In a different bowl, combine the ¼ cup of cocoa powder with 1/3 cup warm water.

5

Once the marshmallow mixture has reached the perfect consistency, add both chocolates and blend for a further minute or until well combined.

6

In a small bowl, sift together the powdered sugar, ¼ cup cocoa powder and cornstarch. Coat a 13x9 baking dish with cooking spray and line with a thin layer of the cocoa powder/cornstarch mixture.

7

Using a spatula also coated in cooking spray, spread the chocolate marshmallow in an even layer in the baking dish. Coat with the rest of the cocoa powder/cornstarch mixture. Allow marshmallows to sit overnight.

8

Once the marshmallow has completely set, carefully lift out of the dish, reserving all the cocoa/cornstarch powder. Place on cutting board and slice into cubes or cut into shapes using small cookie cutters. Coat the sticky sides in the remaining cocoa/cornstarch powder.

9

Store in an airtight container and enjoy as is, as part of the best s'mores ever made, or melted in a cup of coffee, hot cocoa, or cup of hot milk. For an extra decadent treat, melt a cup of semi-sweet chocolate and dip marshmallows in the chocolate.
Ingredients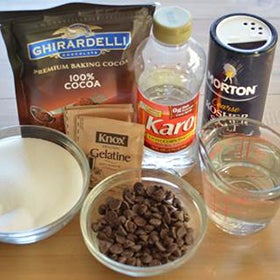 >

For Marshmallows:

>

3 Packages of Unflavored Gelatin (2.5 Tbsp)

>

<

1/2 Cup Ice Water

>

1 1/2 Cups Sugar

>

1 Cup Light Corn Syrup

>

1/4 Tsp Kosher Salt

>

1/2 Cup Water

>

4oz (2/3 Cup) Semi-sweet chocolate

>

1/4 Cup Unsweetened Cocoa Powder

>

3 Tbsp Water

>

For Coating:

>

1/4 Cup Powdered Sugar

>

1/4 Cup Unsweetened Cocoa Powder

>

1/3 Cup Cornstarch (optional)
Homemade Chocolate Marshmallows