Valentine's Day Chocolate Covered Marshmallows
Homemade Chocolate Marshmallows
Marshmallows are one of those things that we pick up at the store without ever wondering whether we could make them at home. They're marshmallows after all. When you want to make s'mores or hot chocolate, you grab a bag and throw it in the cart. But, like pretty much everything else, homemade marshmallows are so much better than the store-bought kind, and, if you have a thermometer that can withstand high temperatures, then they're also ridiculously easy. Follow the steps below and get ready to enjoy homemade chocolate marshmallow nirvana. Added good news, they're gluten free!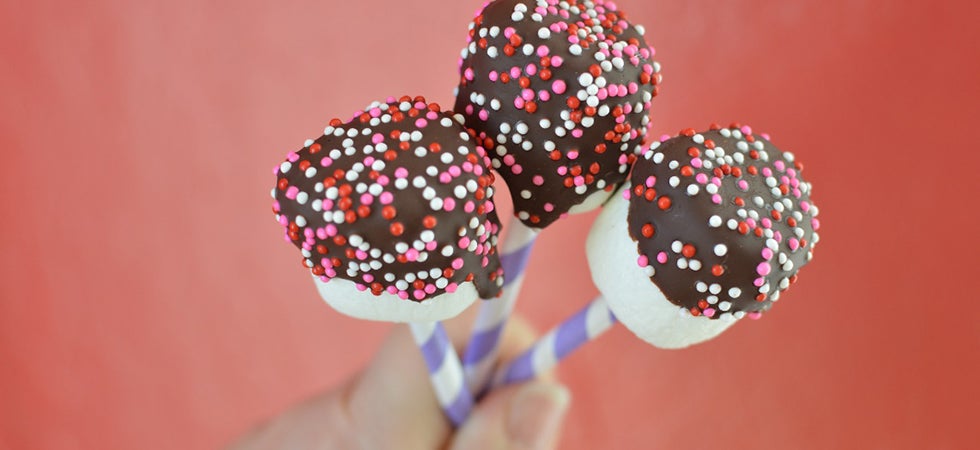 1

Using lollipop sticks or paper straws cut in half, prepare marshmallows and set aside.

2

Melt the semi-sweet chocolate until smooth and shiny either in a double boiler or with short microwave bursts.

3

Dip each marshmallow halfway into the melted chocolate and turn, letting the excess chocolate drip off.

4

Shower with sprinkles.

5

Stand the marshmallow pops up in a piece of Styrofoam or lay them down on a sheet of parchment paper. Set aside to dry. Enjoy!
Ingredients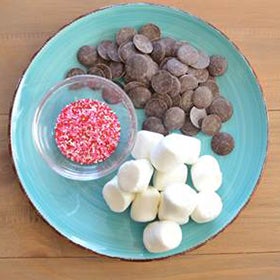 >

1 Cup

Semi-Sweet Chocolate Melting Wafers

>

1 Bag

of Marshmallows

>

1 tsp

Vanilla Extract

>

Sprinkles
Valentine's Day Chocolate Covered Marshmallows