Gooey Fudgy Brownies Recipe
# Gooey Fudgy Brownies
A great brownie can fix all the world's ills because it's simply the most comforting chocolate treats. More importantly, it's one of the easiest chocolate desserts to make. With the right ingredients—which can be found in most pantries—a decadently chocolatey and gooey brownie can be ready in close to a half an hour. And, as everyone knows, the best time to eat a brownie is as soon as it is cool enough to put in your mouth, so you won't even have to wait all that long to enjoy your treat!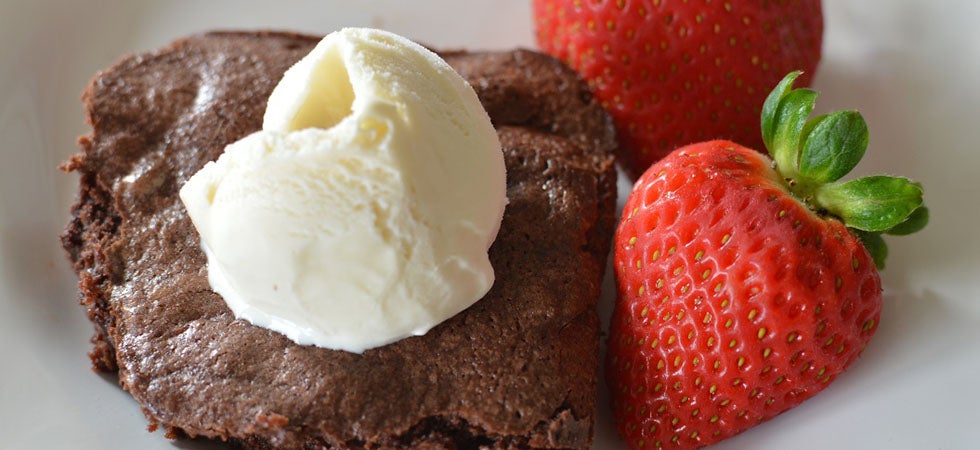 1

Preheat oven to 375°F and grease a 9x13 pan. Set aside.

2

In a large bowl, mix together all the ingredients, except for the chocolate chips, in the order they are listed.

3

Mix in the chocolate chips.

4

Spread the batter into the prepared pan so that it covers the bottom fully.

5

Bake for 20 minutes or until an inserted toothpick comes out clean. Please note, if your knife or toothpick encounters a melted chocolate chip, it will not come out clean. If you're using a smaller pan, your cook time will be longer.

6

Serve with a scoop of ice cream or enjoy plain. Get ready to be asked to make this time and time again.
Ingredients
>

1 Cup AP Flour

>

¾ Cup Cocoa Powder

>

1 ¾ Cup Sugar

>

½ Tsp Salt

>

¼ Tsp Baking Powder

>

¾ Tsp Espresso Powder

>

3 Large Eggs

>

½ Cup Unsalted Butter

>

¼ Cup Vegetable Oil

>

1 Tbsp Vanilla Extract

>

1 Cup Semisweet Chocolate Chips
Gooey Fudgy Brownies Recipe