Neuhaus World's Top Chef's Chocolate Collection
Neuhaus World's Top Chef's Chocolate Collection
We're sorry, this product is not available. Please shop our top trending products that customers like you have chosen to connect, express and celebrate.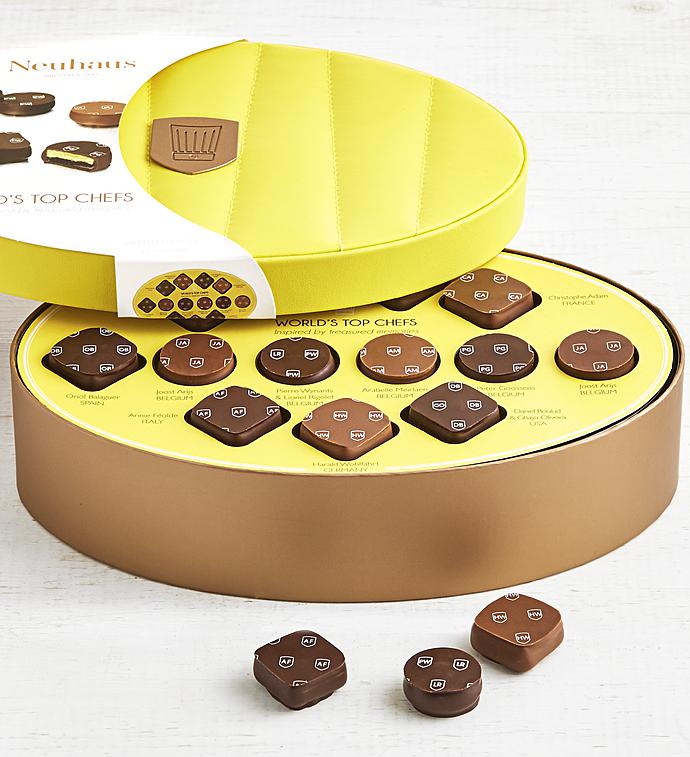 Product Details
:
1025-P-163388
What an exceptional chocolates box this is! Nine world-famous Chefs and Chefs Pâtissiers have created their own unique pralines for Neuhaus, each one inspired by a treasured childhood memory. This prestigious combination of haute cuisine and premium chocolate will delight the finest palate. Fresh flavors including almonds, hazelnuts, coconut, speculoos, lemon, green tea, coffee, and strawberry are the perfect complement to the intense Belgian dark chocolate and rich milk chocolate. A wonderful gift for a special person in your life!
Christophe Adam of Paris based his praline on California almonds and coconut nibs from Bali, Belgian Chef Joost Arijs was inspired by flavors of speculoos and mandarins from childhood Saint Nicholas Day chocolates, and Annie Féolde of Italy honored the flavors of Tuscany in her extra virgin olive oil and lemon zest ganache.
This luxury gift box contains 27 exclusive Belgian chocolates (three from each chef) in an exquisite presentation that includes a gift bag and a brochure describing the chocolates.
Gift measures 10.25" x 7" x 2.5"