Neuhaus All Dark Assorted Belgian Chocolates 25 pc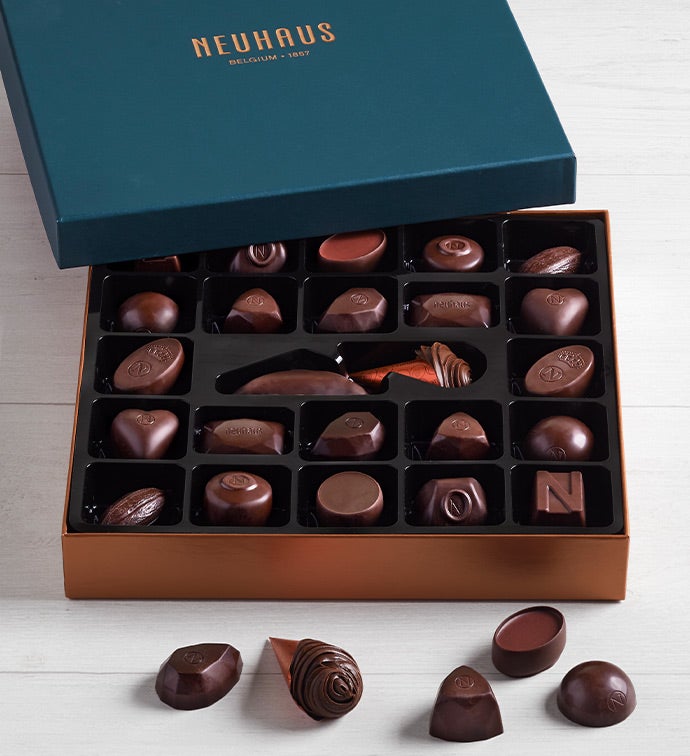 Neuhaus All Dark Assorted Belgian Chocolates 24 pc
This package contains 25 Dark chocolate pralines, which include:
Art Déco Dark 70% Cocoa
Criollo Dark 70% Cocoa
Suzanne Dark
Galerie Dark
Figaro Dark
Perle Dark
Satan Dark
Bourbon Dark
Albert Dark
Art Nouveau Dark 70% Cocoa
Jean Fondant 64% Cocoa
A gift of absolute decadence to delight the chocophile for whom only the finest dark chocolate will do. Neuhaus's Dark Collection features 25 rapturous fillings of ganache, caramel and more all enrobed in a silky dark chocolate shell, presented in a luxury gift box.
Authentic Belgian Chocolate. Since 1857, Neuhaus chocolates have been crafted entirely in Belgium with only the finest ingredients. These fine chocolates are non-GMO and are imported fresh weekly.
This package contains 25 Dark chocolate pralines, which include:
Art Déco Dark 70% Cocoa
Criollo Dark 70% Cocoa
Suzanne Dark
Galerie Dark
Figaro Dark
Perle Dark
Satan Dark
Bourbon Dark
Albert Dark
Art Nouveau Dark 70% Cocoa
Jean Fondant 64% Cocoa