Knipschildt Chocolatier Exclusive Tower Trio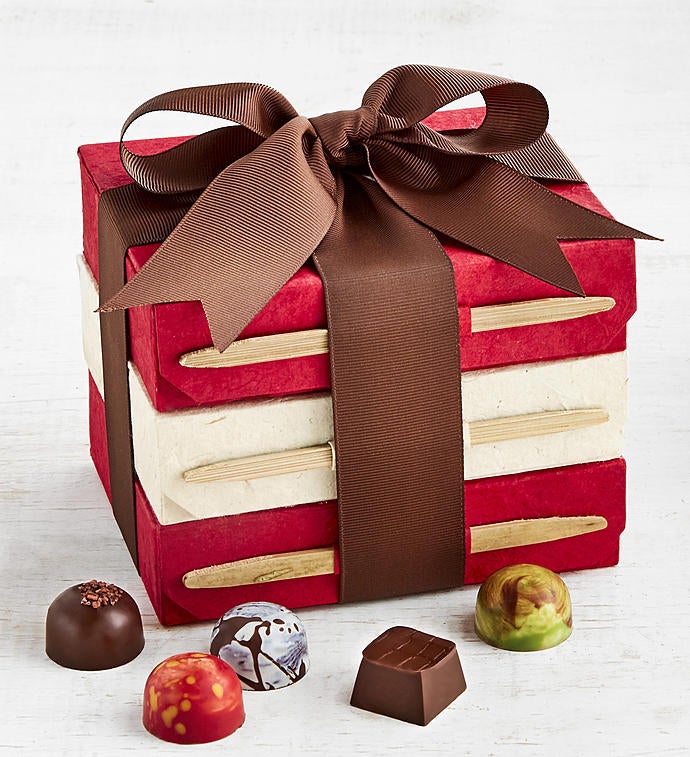 Knipschildt Chocolatier Exclusive Tower Trio
Total Net Wt. 1 lb. 2.4 oz. Knipschildt Chocolatier Exclusive Tower Trio Includes:
4.2 oz. Knipschildt Chocolatier Signature Collection 12pc
10 oz. Knipschildt Chocolatier Caramel & Sea Salt Collection 12pc
4.2 oz. Knipschildt Chocolatier Dark Chocolate Bon Bons 12pc
Gift measures 5.5"L x 4.5"W x 5"H
A Simply Chocolate exclusive! Famed Knipschildt Chocolatier combines their most sought after Signature Collection Chocolates and Dark Chocolate & Caramel Sea Salt Bonbons in this artisan tower handsomely tied with a sleek brown woven ribbon. These amazing hand-painted premium chocolates in intriguing avant-garde flavor combinations will be sure to especially impress those who know and love fine chocolate.
Fritz Knipschildt blends the influence of his Scandinavian roots with handpicked natural ingredients local to New England. The result is a truly premium chocolate collection that delivers a luxurious, sophisticated haute couture style experience. Each handcrafted chocolate from his signature collection is an artistic handmade jewel. These preeminent quality chocolates and truffles come packed in handcrafted, all natural and sustainable paperboard boxes from Nepal and are artfully sealed with a bamboo stick.
Knipschildt Chocolatier Signature Collection 12pc
Looking for amazing taste and true flavor innovation? These artisan hand painted chocolates will captivate even the most discriminating chocophiles. Renowned chocolatier Fritz Knipschildt combines exquisite old European craftsmanship, intriguing avant-garde flavor combinations and state-of the art handpicked natural ingredients to create artistic customized chocolates. Each exquisite piece is carefully hand painted and packed into unique sustainable boxes.
The Signature Collection includes these flavors:
Hannah® Caramel in 71% Ecuadorian single bean dark chocolate topped with Hawaiian Sea Salt
Jeanett® Garden Mint infused white chocolate ganache in white chocolate
Patricia® Tangerine and ancho chili white chocolate ganache in 71% Ecuadorian single bean dark chocolate
Viva® 71% Ecuadorian single bean dark chocolate bonbon
Aurora® Hazelnut milk chocolate ganache in milk chocolate
Asta® Elderflower jam and milk chocolate ganache in 71% Ecuadorian single bean chocolate
Kelly® Strawberry and lemon-thyme white chocolate ganache in 65% house blend dark chocolate
Eva® Rosemary infused caramel in milk chocolate topped with mushroom salt
Ana Carlota® Madagascar pickled green peppercorn white chocolate ganache in 71% Ecuadorian single bean dark chocolate, topped with Cyprus black lava salt.
Knipschildt Chocolatier Caramel & Sea Salt Collection 12pc

Famed chocolatier Knipschildt blends just the right combination of sweet 'n salty and luscious dark chocolate in these exquisite bonbons. These decadent chocolates are made with 71% Ecuadorian single bean dark chocolate bonbons, filled with "burnt" caramel and topped with Hawaiian sea salt.

Knipschildt Chocolatier Dark Chocolate Bon Bons 12pc

Award winning Knipschildt Chocolatier has created these bonbons for those who crave luscious, creamy, premium dark chocolate. Decadent 71% Ecuadorian single bean dark chocolate surrounds the coveted centers made with rich dark chocolate, heavy cream, sugar, and butter. These amazing bonbons are beautifully presented in a unique sustainable keepsake box.
Total Net Wt. 1 lb. 2.4 oz. Knipschildt Chocolatier Exclusive Tower Trio Includes:
4.2 oz. Knipschildt Chocolatier Signature Collection 12pc
10 oz. Knipschildt Chocolatier Caramel & Sea Salt Collection 12pc
4.2 oz. Knipschildt Chocolatier Dark Chocolate Bon Bons 12pc
Gift measures 5.5"L x 4.5"W x 5"H