Interview with Olivier Demol,
Master Chocolatier for Neuhaus Chocolates
We recently sat down for a little international chat with Olivier Demol, Master Chocolatier for Neuhaus Chocolates, based in Belgium. If you're looking for a traditional, Belgian style chocolate truffle, the iconic chocolates by Neuhaus is a delectable place to start and as you get to know Olivier Demol with us, you'll know why. Obviously, Olivier Demol hasn't been with Neuhaus since 1857 when they first opened up shop or even since 1912 when they created the world's first filled chocolate, but he embodies the Neuhaus traditions all while adding carefully considered innovation to the mix.
On A Typical Day at Neuhaus Chocolates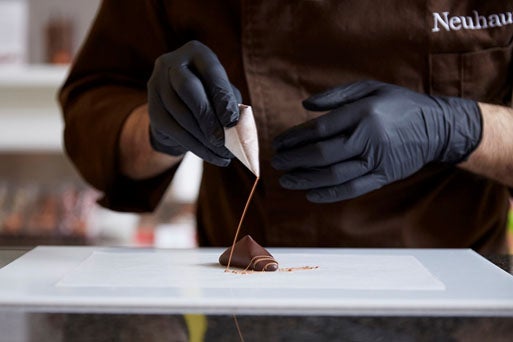 Making chocolates isn't a job that someone can do alone. That's why most days at Neuhaus start with a team briefing. Together we consider the season and decide what praline or ganache needs to be created that day. Sometimes we pick a fruit creation, sometimes something with herbs or nuts. Then we decide what chocolate we're going to work with, will it be our chocolate or something from another chocolate maker.
We get cooking and then, lucky us, at lunch time, we get to taste the result of all our hard work!
On Getting Started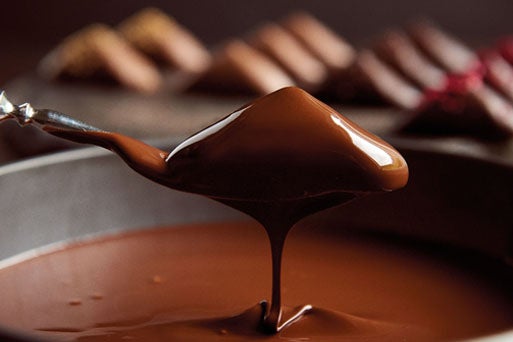 My love for chocolate was born in my grandmother's kitchen. She taught me to respect the materials we cooked with and to use local ingredients whenever possible. I'll never forget her telling me that you get the best flavors when you use the best products. It's so simple, but so true. I stick to this philosophy every day, no matter what we're cooking up in the Neuhaus kitchens.
My whole career has been focused on developing new pastries and chocolates. Coming up with new ways to innovate using traditional techniques and materials has always been my passion. I consulted with Neuhaus as a product developer for over 15 years before finally becoming Master Chocolatier.
On Favorite Chocolates
It's hard to pick a favorite Neuhaus chocolate, but I think our best creations are the 'Irrésistibles.' They're a perfect blend of nougat, filling, and chocolate. (Some can be found in the Neuhaus Infinite Love box.) But I've never met a chocolate that I didn't like. All chocolate has a unique perfume, flavor, and taste. They're all special.
I do think that the best chocolate comes from Ecuador. It has an intense cacao flavor, with a fruity, slightly acidic taste. It's part rum, whiskey, and tobacco, which gives the chocolate a truly spectacular flavor profile.
Our most original chocolates haven't been released yet, but they're coming! We're working on a sublime line that meld our traditional style with some unique flavors. You're going to love it!