Interview with Yosi Coba from Max Brenner
Interview with Yosi Coba
from Max Brenner Chocolates
Unlike many of the chocolate companies that we work with here at Simply Chocolate, Max Brenner doesn't have just one master chocolatier. That's why we sat down with Yosi Coba, head of marketing, to discover what makes this chocolate brand so very unique and why they're often referred to as the 'bad boys of chocolate.'
On a Typical Day at Max Brenner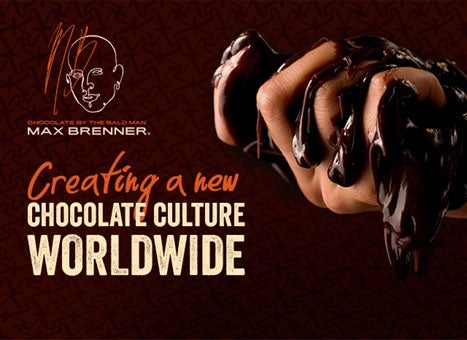 At Max Brenner we make over 60 different products, but each day is dedicated to making just one. While most chocolatiers make chocolates the Belgian way, where you start by making the shell of the chocolate and then filling it, our chocolatiers craft their confections the French way, where you start with the core and work your way out.
Every morning starts the same way, with our chocolatiers boiling sugar and adding fresh hazelnuts to create the ganache or pralinée spread of the day. Once the pralinée is made, the chocolatiers use it as the base to which they add chocolate and whatever other ingredients or flavors are required to make the chocolate of the day.
We really believe in only using real raw materials. We always start with the whole product, like boiling down fresh raspberries with sugar to make raspberry flavoring or starting with whole hazelnuts for our 'pralinée.'
On Being Part of the Family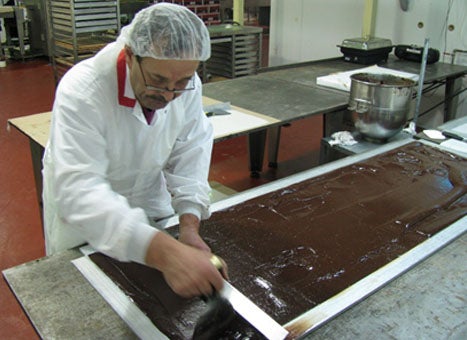 I first started working for Max Brenner chocolates as a waiter in the first restaurant back in 2003. I just love chocolate. I wanted to stay with Max Brenner, but ended up working in advertising before coming back to join the marketing department. I love my job and I wouldn't want to be doing anything else. Where else do you get to play with chocolate every day?
On Inspiration for New Flavors
Coming up with new flavors is a serious team effort. In fact, we have two teams working on new product ideas, the innovation team and the marketing team. The innovators come up with new ideas through experimentation while the marketing team looks at world trends for inspiration.
After a lot of back and forth, we all decide on the flavors that deserve to be tested. We start by trying the new confections in house, then we send them out to groups of testers to see if the products are good enough to bear the Max Brenner label. Often, it takes multiple rounds before a chocolate is deemed ready for public consumption.
Our goal is to always create chocolates that deliver a rich emotional experience. We want to offer something that corresponds to every category of emotion, from romantic love to comfort to the need for a luxurious pick-me-up.
On Extravagance and Rocking the Chocolate Boat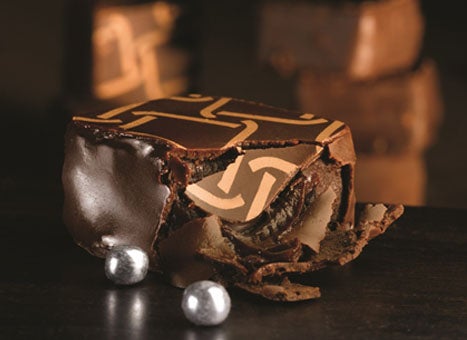 Max Brenner is the only place where you can get a giant syringe full of chocolate and the Famous Chocolate Mess Party for Two, so, clearly our innovation team really enjoys coming up with extra extravagant chocolate ideas.
I think that the most fanciful ever was something we called The Magnet. It was awesome. It had to be eaten by two people kissing. When they did it right, the chocolate egg exploded in their mouths. It's not on the menu any more, but we all still laugh about it.
Another one I loved was the "Love Me, Love Me Not" box. When you took a chocolate out of the box, it revealed a little sign that either read "Love Me" or "Love Me Not." Don't worry, we designed the box so that the person eating the chocolates would always end on "Love Me." No broken hearts at Max Brenner!
There's no age limit to enjoying chocolate, but we want to bring out the kid in everyone.
On the Best Gift and Favorite Flavors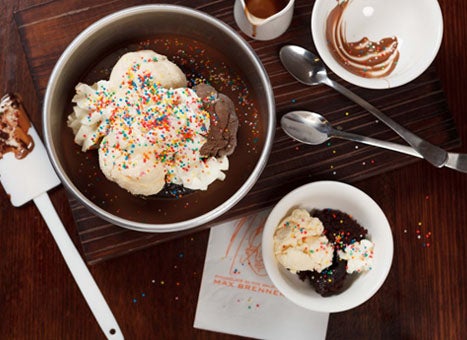 Our team puts almost as much attention into making show-stopping packaging as they put into making the confections themselves. You really can't go wrong when choosing a Max Brenner gift. Our tins are all colorful and reusable and so iconic that most people hold on to them long they've eaten all the chocolates. We reveal new designs before each holiday and we love how many of the old tins can be found in private collections of die-hard fans. We ran a social media contest last year asking people to show us their tins. We were amazed at how many entries we got! We're never going to make traditional pastel colored "chocolate box" designs. All of our tins are bright and bold and made to grab people's attention.
I think that the tin that everyone wants these days is the First Aid Chocolate Box. It's the perfect gift for a friend having a bad day or someone who needs a laugh. It contains everything anyone could possibly need in case of a chocolate emergency, including everyone's favorite Max Brenner treat, the 'Nuts' chocolates—perfectly caramelized nuts enrobed in chocolate. We're designing a new look for the First Aid Box, so if you're a collector, you'll want to get this one soon!
On Fun Chocolate Traditions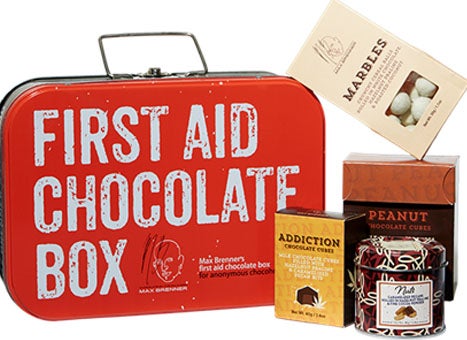 I'm not sure why people do this, but all over Israel, which is where Max Brenner was founded and where we have most of our restaurants and shops, there's a new quirky tradition. Brides and grooms, on their wedding day, stop by a store, all dressed in their fancy clothing, and pose for photos holding a loaded chocolate syringe and a First Aid Chocolate Box. I am always terrified that the brides will get chocolate all over their dresses, but it the couples never seem to worry about it!
This funny tradition does make sense if you think about how often chocolate plays a role in love and romance. After all, countless people use the famous Max Brenner tins to hold engagement rings for surprise proposals!
Interview with Yosi Coba from Max Brenner