5 Women Chocolatiers You Should Get to Know
5 Women Chocolatiers You Should Get to Know
Because making chocolate usually falls to pastry chefs and the pastry industry is heavily dominated by men, women chocolatiers tend to be a rare breed. Luckily, this trend seems to be slowly shifting and amazing women chocolatiers are making themselves increasingly known. Allow us to introduce you to the following five.
1. Katrina Markoff of Vosges Chocolates (Chicago, IL)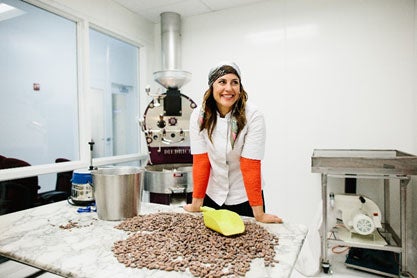 Katrina Markoff didn't even like chocolate when she was a child, but only because she never got to experience 'good' chocolate until she arrived at the Cordon Bleu culinary school in Paris. Her first swoon worthy chocolate experience involved frozen ganache deep fried in beignet batter. After that, there was no going back.
Katrina lives to tell stories through her unconventional chocolate creations. Her exotic and unusual flavors transport you to the places she has explored during her many travels. Each bite invites you to discover the histories and personalities of people you might never otherwise get to know. It's her way of connecting people from all over, fostering peace and tolerance one surprising bite at a time.
2. Maribel Lieberman of Marie Belle New York (NY, NY)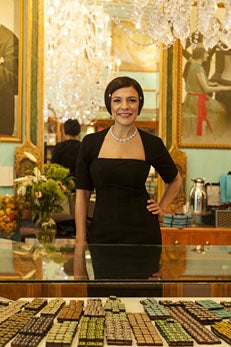 Maribel Lieberman's passion for sweets bloomed early. At just 8-years old, she was already making sugar candy to sell to her neighbors in her native Honduras. But before making her way to the world of chocolate, Maribel took a detour via the world of fashion. After attending the Parson's School of Design in NYC, Maribel launched a catering company, which is where she discovered her lifelong passion for chocolate. Her first chocolate venture, a shop that sold both high end reading glasses and chocolates, combined her love of fashion and confections. Eventually, much to the delight of her customers, Maribel, who oozes class and style no matter what she's doing, decided to focus on chocolates and launched Marie Belle New York in Soho in 2002.
3. Zoe Tsoukatos of Zoe's Chocolates (Waynesboro, PA)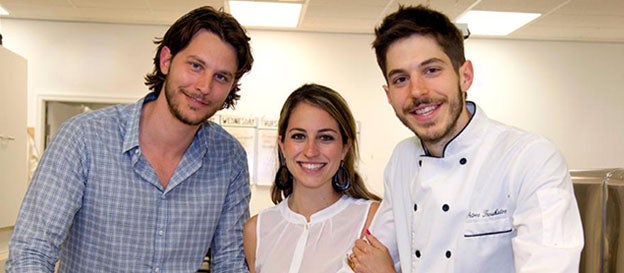 Zoe Tsoukatos has chocolate running through her veins. She's a third-generation chocolatier who started working with chocolate as a child, helping out in her uncle's chocolate store. Despite loving chocolate, she didn't think she'd dedicate her life to it until the moment when her master chocolatier father found himself laid off and Zoe and her two brothers came home to Waynesboro, PA to help him start his own chocolate shop.
The award-winning Zoe's Chocolates, named so because Zoe means 'giving life,' is a family business through and through. The siblings all have a hand in the chocolate making and share the work of running the business so that their father, George, can work his chocolate magic.
4. Elaine Hsieh and Catharine Sweeney of EHChocolatier (Somerville, MA)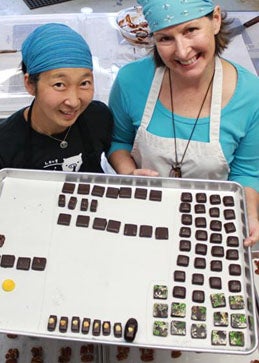 Elaine Hsieh and Catharine Sweeney met when a mutual friend asked them to bake a wedding cake together and deliver it to Martha's Vineyard. Neither had ever made a wedding cake and they had never met each other, but somehow everything worked out. The cake made it to the wedding and before the adventure had come to a close, Elaine and Catharine were fast friends.
Over the years that followed, Elaine often called on Catharine to help with her dessert catering business, until she finally convinced Catharine to go into business with her. Elaine is a trained chocolatier while Catharine is self-taught, but together they hand-craft chocolates that are the perfect balance of flavor, texture and simple beauty. Though they both have very different personalities, they share a passion for getting things just right, something that's immediately evident when you see and taste their confections.
5. Kee Ling Tong of Kee's Chocolates (NY, NY)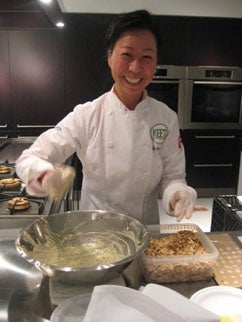 Kee Ling Tong left the corporate world in 2002 to pursue a more hands on and fulfilling business. She started a little shop that sold both flowers and chocolates, but it didn't take long for her carefully hand-crafted chocolates to completely overshadow the flower business and for Kee to decide to focus her energy in that direction. The unique chocolates she creates in her Soho store are heavily inspired by Asian flavors and at times are only available when ingredients are in season. Kee manages every detail of the business: she creates the recipes, mixes the chocolate, makes the molds, stocks the displays and even serves the customers.
5 Women Chocolatiers You Should Get to Know