I have been interested in cooking and baking since I was a child. I worked in restaurants and food businesses while I was in high school and went to cullinary school after college to study baking and pastry making. After graduating from cullinary school, I worked as a pastry chef for the Ritz Carlton Hotel Company before joining Fannie May in 2011.
On Chocolate and Food Science
The manufacturing world is very different from the restaurant business. In a restaurant it's easy to experiment with recipes because you're working with relatively small sample sizes. In manufacturing, you make things in massive quantities that require more calculated planning. Before you make a 1000 pounds of chocolates, you have to know what you're doing. Your confections also need to tolerate being frozen and shipped before being put on display. Ove the course of a year, we use about 8 million pounds of chocolate, so we can't afford to get the process wrong.
Science allows me to understand how ingredients affect each other at each stage of the process and how they can survive each production step. Everything we learn helps us create very methodical processes for planning and executing every step of the way. The science doesn't come second nature to me, but I find it fascinating.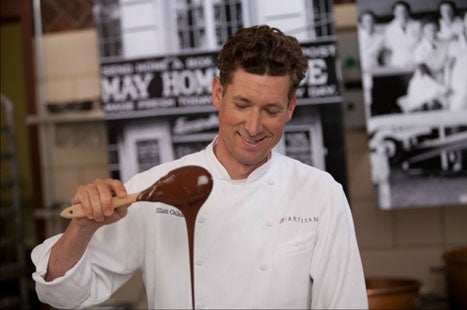 The added benefit to working in manufacturing as opposed to a restaurant kitchen is that you have access to people who can answer the questions that arise whenever you're working with chocolate. In a restaurant, you rely on trial and error or instinct, in my world, we rely on science to guide us. When I was in culinary school I never thought that my journey would take me from classic pastry to food science, but I'm still equally enthusiastic about both ends of the spectrum.