It's not surprising that Godiva Chocolatier originated in Belgium. For generations, Belgium has upheld a tradition of perfectionism, from Rubens paintings and gothic architecture to products made of intricate lace and glittering crystal to fabulous cuisine.

In keeping with Belgian tradition, Godiva's founder Joseph Draps was a master chocolatier who developed a unique formula for rich chocolate with unparalleled smoothness and shell-molded designs. His standards for Godiva -- quality ingredients, elegant styling, innovative selection, and beautiful packaging – remain in place today.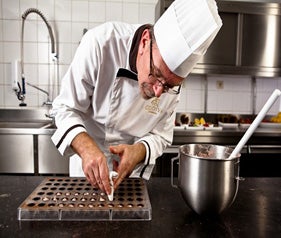 Thierry Muret, Godiva's Executive Chef Chocolatier, originally wanted to be an engineer. Instead, he uses his background in chemistry to create unique flavor profiles and pairings, taking advantage of the complexity of chocolate.