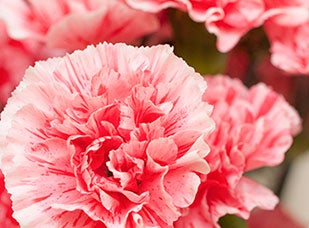 January Birth Flower
Carnation
The carnation is among the oldest flowers to be cultivated, mentioned in Greek literature two centuries ago. Some scholars believe that the bloom's modern name derives from an old word for flower garlands, as carnations were used in ancient Greece to make ceremonial crowns.

The birth flower for January, the carnation is for many a symbol of joy, generally speaking. In additional, light red carnations represent admiration, while dark red flowers express deep love and affection. White carnations indicate pure love and good luck, and pink carnations have become symbolic of a mother's undying love.

Carnations are available year-round in a wide variety of colors and sizes. This diversity and availability has allowed the carnation to become one of the most popular flowers, as well as one of the longest-lasting. If handled properly, cut carnations can live for a whole month. It is advised that carnations be re-cut under water and that any extraneous foliage be removed before adding the flower stems to a vase or design.
Read More +
Shop Now